The Art of Sustainable Gardening
Jim Heid, Grand Wailea's Head Landscaper, has created a mix of indigenous and nonindigenous plants throughout the resort which showcases the beauty of Maui's flora while also embodying our commitment to sustainability
If you're looking for Jim Heid, Grand Wailea's Landscaping Manager, you'll find him somewhere on the resort's 40 acres with a bit of Maui soil under his nails and a satisfied smile on his face. After all, these have been his stomping grounds since he joined the Grand Wailea team in 2008, and he knows each plant, flower, tree, and blade of grass like the back of his hand.
"There are about 600 different species of plants that grow here," he says. "I'm constantly planting, experimenting, and moving things around."
Raised in Southern California with a farming background, Jim, who has two degrees in horticulture, came to Maui in 1976 to develop the protea industry in Hawaiʻi. Proteas, also known as sugarbushes, are native to South Africa, but are well suited to Maui's climate. Having done his thesis work on this flowering plant, Jim quickly transformed his passion for proteas into a new career with the establishment of an 80-acre protea farm among the rolling hills of rustic Kula in Upcountry Maui. Under his leadership, the farm became the largest flower exporter out of Hawaiʻi, with Jim's Maui proteas auctioned, sold, and transported all around the globe.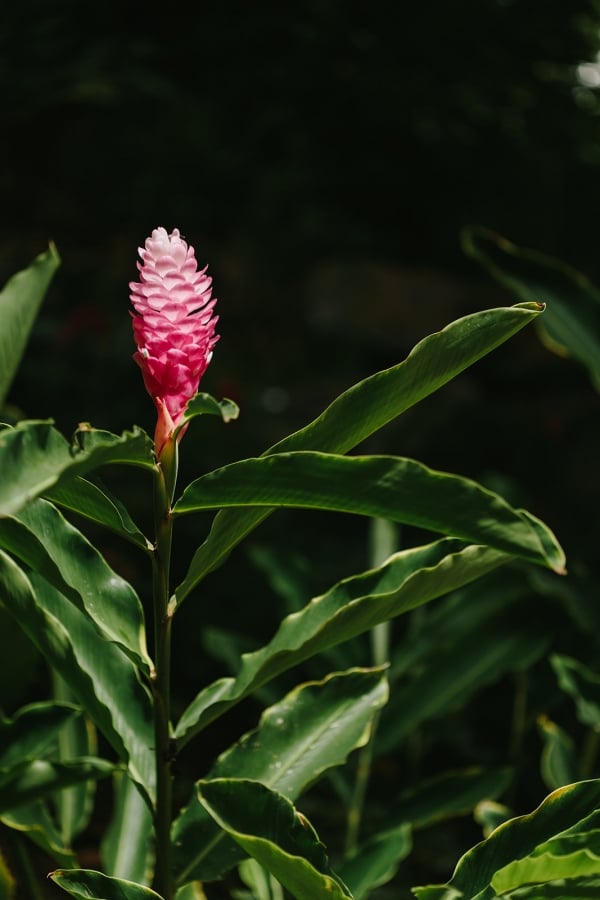 "Growing proteas gave me the opportunity to travel and see the world," he recalls. "But one day, the original developer of Grand Wailea, a man named Takeshi Sekiguchi, had his team approach me to help set up the landscaping at the resort. In addition to running my protea farm, I was president of the local nursery association at the time, so I was asked to build relationships with local nurseries with the goal of supporting and buying local. So I became a liaison between the resort and local nurseries to begin the planting process at Grand Wailea using Maui-grown plant material. In fact, during that initial period, I actually ended up supplying all of the original plantings here at the resort.
"In 2008, I was asked to join Grand Wailea as the full-time landscaping manager, which sounded like a fun challenge, so I sold my protea farm and have been here ever since! It was a change in scenery and a change in artistry," he laughs. "But I have a much broader canvas now."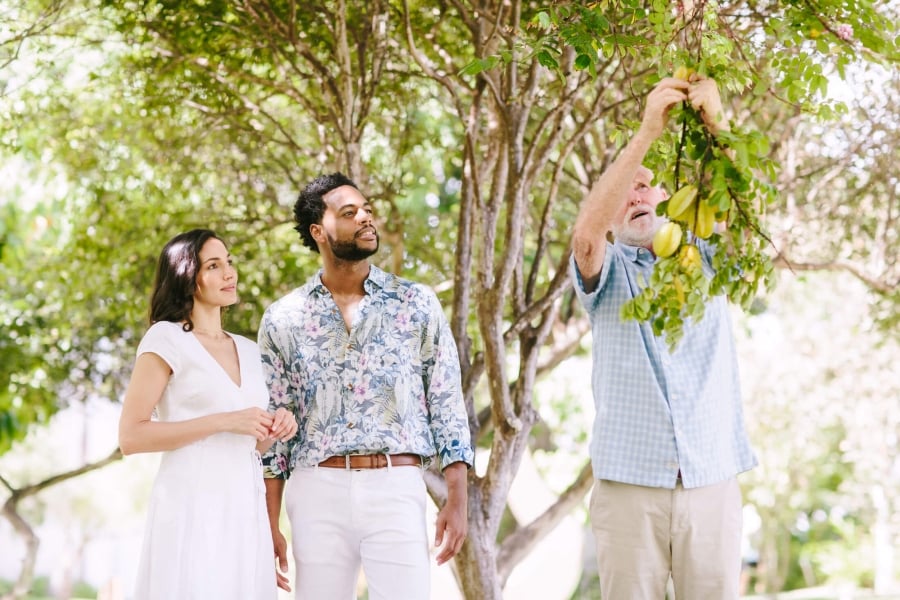 Indeed, 23 of Grand Wailea's 40 acres are landscaped grounds that contain an ever-growing collection of plant species. In addition to maintaining the 600 species that currently grow on the resort's stunning grounds, Jim and his dedicated landscaping team are in the midst of an ongoing project to expand the resort's ecosystem to include more plants endemic to Maui.
"What's driving this is Grand Wailea's sustainability efforts and growing consciousness about minimizing water usage. That's a huge thing," he emphasizes. "Endemic plants generally require less maintenance and less water, but on the whole they're not as eye-catching as the non-endemic flowering plants we have here on the property. The challenge is how do we blend these somewhat ordinary-looking endemic plants with the big flowering plants we already grow here? Especially since many of our non-native plants are colorful and beautiful—almost natural works of art.
"One example of the approach we've taken is near Wailea Beach, where we use indigenous plants along the pathway, since they're hardier. As we get up away from the ocean into the more intimate areas of the resort, that's where you'll find your non-endemic gingers, heliconia, and other flowering types of trees and shrubs. So there we've created a nice mix of indigenous and nonindigenous plants, which not only showcases the beauty of Maui's flora, but also embodies our commitment to sustainability."
Jim is already looking to the future, having connected with a local nursery to obtain 25 new species of endemic plants to make Grand Wailea's grounds even more attractive—and more environmentally friendly.
"I'm constantly creating," he says. "I've always loved trying out new designs, so this wider range of planting choices gives me the chance to create beautiful landscaping while also promoting sustainable living. What's not to love?"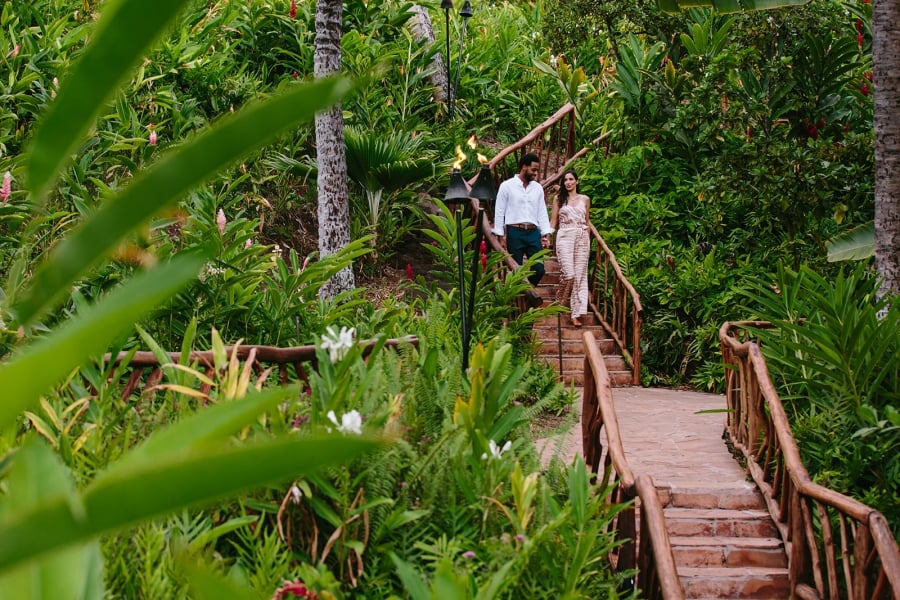 Maui Meets the Amalfi Coast at Olivine, Grand Wailea's New Dining Gem
The launch of Olivine marks another step in our property-wide refresh
Grand Wailea and Erewhon Create a Partnership Rooted in a Sense of Wonder
Bringing the best of LA to Maui
2023: Starting Slow, Picking up Speed
2023 is a year to allow the visionary within to come out.
"The White Doves" Multimedia Installation Brings the Aloha Spirit to Life
ʻIkena, Grand Wailea's signature breakfast and brunch venue, provides a gorgeous setting at any time of the day, with its soaring ceilings and indoor-outdoor setting accentuating all the natural beauty that surrounds. No wonder, then, that it was chosen by Michael Pendry, a world-renowned German multimedia artist, as the site for his large-scale "The White Doves" installation.
Planning a Destination Wedding at Grand Wailea: Tips and Insight from Our Resident Expert
Senior Social Catering Manager Carol Suckow shares her destination wedding advice—and her golden rule

Explore the Storied Waters of Wailea in an Outrigger Canoe
Grand Wailea celebrates one of the most revered Hawaiian traditions with our outrigger canoe program
Celebrating International Women's Day with Stephanie Jacobs, Director of Winemaking at Cakebread Cellars
This talented winemaker will headline the first dinner event of Grand Wailea's charitable Wine and Dine series, themed Women in Wine
An Open-Air Museum in Paradise
At Grand Wailea, we have assembled a formidable art collection to spur the imagination and shed light on our historical and cultural roots.