Celebrating King Kamehameha Day at Grand Wailea
Our resort pays tribute to the first king of a unified Hawaiʻi
At the entrance to Grand Wailea stands a stoic-looking bronze statue of King Kamehameha I, the founder and first ruler of the Kingdom of Hawaiʻi. Despite the fact that the statue is 7 feet tall—the real-life size, in fact, of the gigantic king—you'd be forgiven for not easily spotting it, as its greenish-bronze coloring can camouflage it against the lush plantings that surround it.
If you happened to be at Grand Wailea on Friday, June 10, however, there was no way you would have missed the statue, as it stood resplendent—draped in enormous 6-foot-long lei of every color—and surrounded by well-wishing Grand Wailea team members, guests, and members of the Maui community.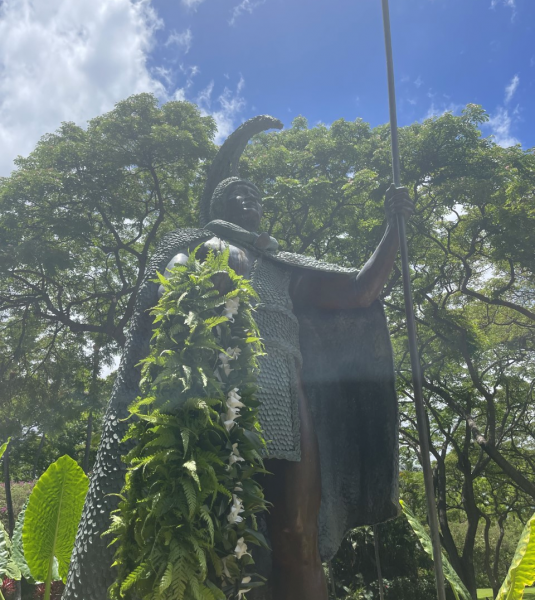 This was our annual King Kamehameha Day Celebration, and, like we do every year on or around the official celebration date of June 11, we joined the rest of the state of Hawaiʻi in honoring this larger-than-life king, who conquered and united the Hawaiian Islands in 1810 ruling in absolute monarch for 9 years.
This year was the 150th King Kamehameha Day Celebration, which made it even more special. The day was first celebrated on June 11, 1872 at the behest of King Kamehameha V, Lot Kapuāiwa, who chose to honor his grandfather with his own holiday, on which every Hawaiian would come together and commemorate the first king's contributions to the islands.
"I love this day, as it gives all Hawaiians the chance to honor the king and pay him the respect that he really deserves," says Kalei ʻUwēko'olani, Grand Wailea's Cultural Programming Manager and Leadership Educator. "Different islands celebrate the day in different ways, including lei draping ceremonies, parades, and even a rodeo! Maui celebrated this special edition of Kamehameha Day with a parade featuring women in colorful flowing paʻu (a traditional Hawaiian skirt) on horseback, as well as with our own celebration here at Grand Wailea."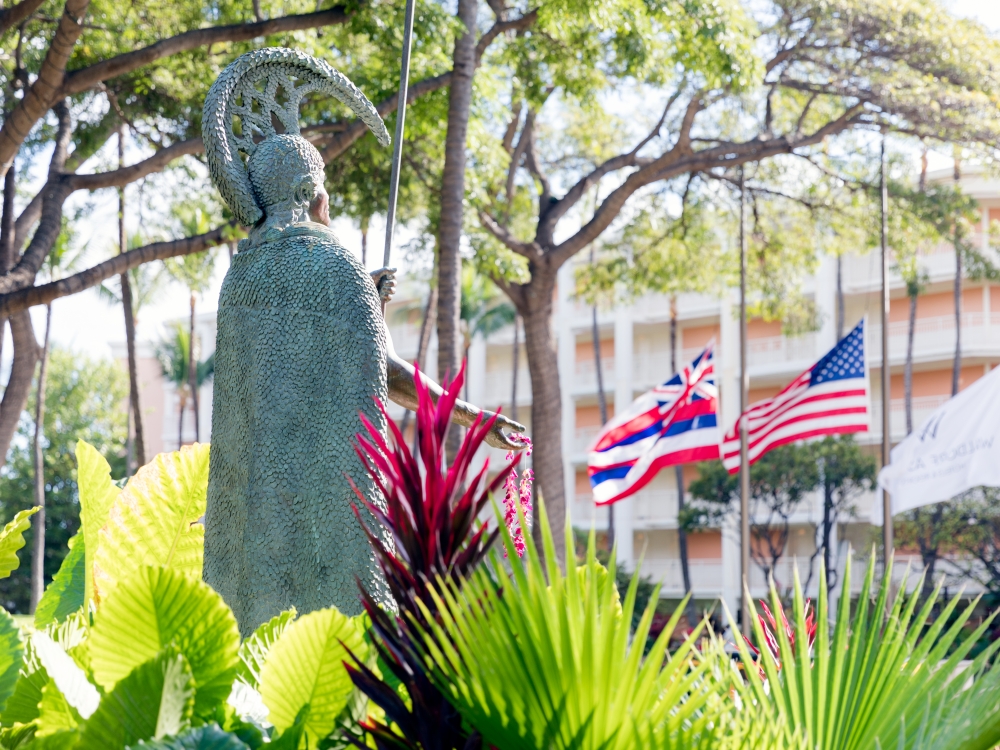 In many ways, Grand Wailea's celebration is a signature Kamehameha Day event, as the resort's statue of the king is the only one on Maui, and one of only five in the entire world! In fact, the statue at Grand Wailea is believed to be the most lifelike version, as the sculptor—Herb Kawainui Kāne, a renowned native Hawaiian artist—used historical records to determine the king's likeness and incorporated Polynesian features into the statue's facial features. He even made the statue to scale to match the king's huge stature.
"Our statue of Kamehameha is the only one in the world made by a native Hawaiian artist, and it was made using a live model, which almost seems to bring the king to life. So it's appropriate that we honor the king here," says Kalei. "This year, as we always do, we started the celebration with a oli (chant) as well as some traditional music with a storytelling element performed by Pono Murray and his family, who also headline our lūʻau.
"Then we moved onto the main event, which was the lei draping ceremony," continues Kalei. "It's a moment that's always loaded with meaning, with guests, team members, and community members all invited to bring their handmade lei forward to drape on the statue as a sign of respect—some over his outstretched hand, some at the statue's base. We had so many this year that we had to erect a rack next to the statue where more lei could be draped, which made for a really colorful array!"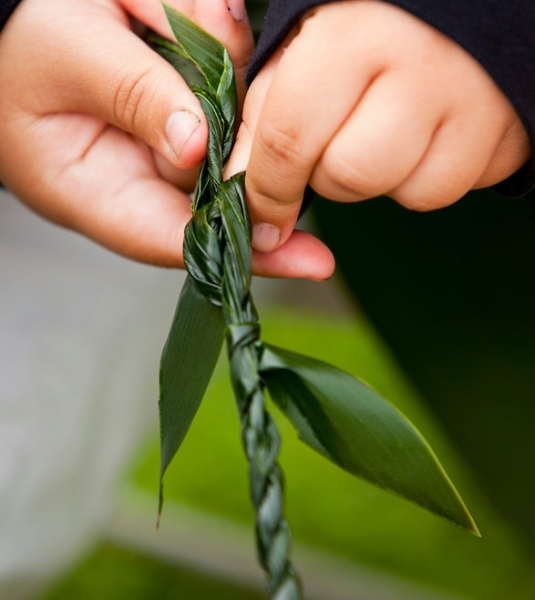 In addition to the lei draping ceremony, the celebration featured a market featuring goods and crafts made by local artists and artisans, as well as a traditional hula performance. The purpose of the day was to celebrate the islands and the sense of Hawaiian identity that King Kamehameha gave rise to during his reign. For many team members and guests, the day offered a chance to immerse themselves into Hawaiʻi's rich history and culture. The 6-foot-long lei that they draped on the statue, for instance, were the result of—in some cases—weeks of work.
"One of my favorite things about this day is that we ask every department that wants to participate to create a team lei," says Kalei. "But you have to remember that making a lei is hard work! It involves gathering natural materials and hours of weaving—especially for extra-long lei used for the draping ceremony. When a group of individuals comes together to make a lei, they're putting their time, essence, and mana (energy) into it. It's really a cultural bonding experience.
"So it warms my heart and makes me so happy to know that my colleagues are not only supporting me and our cultural programming, but they're also embracing the king, and who we are as Hawaiians. When I see their curiosity and respect for another culture, it makes me realize that the day is more than just celebrating the king's legacy. We're also celebrating a real sense of inclusion. On this day, we are all united!"
Traveling with Aloha
How to Visit Maui After the Wildfires
A Vacation that Allows You to Mālama (Give Back) 
We believe that all of this—everything you see and feel—must be cherished and celebrated, and we invite all our guests to join us in honoring the people and 'āina of Maui by giving something back.