Breathing New Life into 'Ōlelo Hawai'i (Hawaiian Language)
In 2012, the Hawai'i State Legislature issued a statute that reads as follows: "E 'ike mau a e kapa 'ia ana a'e ka mahina 'o Pepeluali 'o ia ka 'Mahina 'Ōlelo Hawai'i' i mea e ho'omaika'i a e paipai aku ai i ka 'ōlelo 'ana o ua 'ōlelo makuahine nei lā."

Or, in English: "The month of February shall be known and designated as ''Ōlelo Hawai'i Month' to celebrate and encourage the use of Hawaiian language."
Aloha! Pehea ʻoe?
Try mouthing out this simple greeting yourself: ah-LO-ha (hello)! Peh-HAY-ah oi (how are you)?
If you're lucky enough to be in Hawai'i right now, try it out on someone who speaks Hawaiian. If you're planning a trip in the near future, practice a bit at home. If you need a little help, check out Duolingo, the amazing language lesson app that added Hawaiian to its offerings in 2018, or simply type the phrase into the search engine of your choice and listen carefully to the pronunciation.
Let's try it again: Ah-LO-ha! Peh-HAY-ah oi?
Practice makes perfect, right? And there's no better time to master the basics of 'Ōlelo Hawai'i (Hawaiian language) than right now, since February happens to be Hawaiian Language Month.
In 2012, the Hawai'i State Legislature issued a statute that reads as follows: "E 'ike mau a e kapa 'ia ana a'e ka mahina 'o Pepeluali 'o ia ka 'Mahina 'Ōlelo Hawai'i' i mea e ho'omaika'i a e paipai aku ai i ka 'ōlelo 'ana o ua 'ōlelo makuahine nei lā."
Or, in English: "The month of February shall be known and designated as ''Ōlelo Hawai'i Month' to celebrate and encourage the use of Hawaiian language."
For Hawaiians, this was a momentous occasion. Although the Hawaiian language—once nearly extinct—was made an official state language in 1978, its mainstream use was relatively limited at first. There were some exceptions to this, though. In 1983, a group of educators and parents founded ʻAha Pūnana Leo (which translates literally as "Voice Nest Assembly" or "Language Nest Assembly") as a grassroots effort to revive ʻŌlelo Hawaiʻi by bringing Hawaiian language education back into local schools and raising awareness about the language's rich heritage—and its risk of extinction.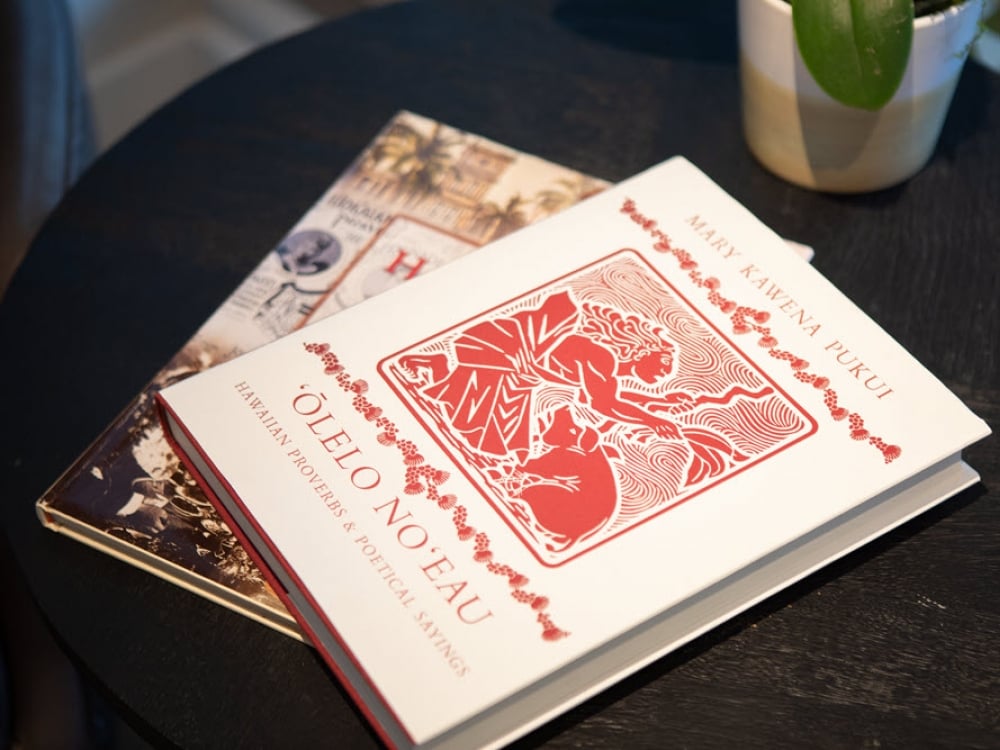 "When I was a kid, Hawaiian wasn't spoken in the home other than by my grandparents, who knew very little, and there weren't many chances to learn the language," says Kalei ʻUwēkoʻolani, Grand Wailea's Cultural Programming Manager and Leadership Educator. "It was known at one point as a dying language. In fact, schools were once banned from teaching it at all! So when the Pūnana Leo effort began in the early 1980s, it marked an important step in the revival of Hawaiian language and culture.
"Today on Maui alone, Hawaiian is taught at three elementary schools, two middle schools, and two high schools, in addition to the various Pūnana Leo preschools," continues Kalei. "I'm proud that my daughter, who's seven, attends Hawaiian immersion school, and at home we try to speak Hawaiian as much as possible."
Kalei's passion for Hawaiian culture, and especially its language, is clear. She is thrilled to share this passion with our guests through our weekly Papa ʻŌlelo Hawaiʻi language-learning experiences, where she shares words, pronunciation, and history about the Hawaiian language through fun and interactive activities.
In addition, she also shares her love for the Hawaiian language with colleagues. For instance, our very own Executive Sous Chef Mike Lofaro (who happens to have won not only the title of Best Chef on Maui, but also an Emmy Award!) has been inspired to get more involved in Hawaiian culture, and he has thrown himself into the language since last year. With Kalei's help, Mike has gotten to the point where he can have a basic conversation entirely in Hawaiian!
"To sit down and have a conversation in Hawaiian with a colleague is mind-blowing!" she laughs. "Other people just stare. Our hotel manager literally stopped in his tracks one time and said to Chef Mike, 'You can speak Hawaiian?!"
During Hawaiian Language Month, Kalei has been making an extra effort to spotlight this ancient Polynesian language, and to share the joy of language learning with all her colleagues. Every week in February, she has been sharing a Hawaiian word of the day based on a different weekly theme. Kalei gives the pronunciation and how to use it in a sentence, offering Grand Wailea staff the chance to truly immerse themselves in the language learning process.
The idea is that by the end of February, everyone will be able to do a basic ho'olauna (introduction) about themselves in Hawaiian. Not only does this give our colleagues a common goal to work toward, but it also connects and roots them more deeply to the ʻāina (land) they call home.
"I'm a very passionate person, especially when it's something that I'm connected to," says Kalei. "So anything that has to do with Hawaiian culture, I try to give it everything. If I'm helping to share and spread Hawaiian language and culture to the community, the Grand Wailea team, and our guests, that makes me feel really good. I'm proud to know that what my grandparents passed down to me is being given new life."
May Day Is Lei Day
The spirit of aloha comes alive at Grand Wailea
Celebrating King Kamehameha Day at Grand Wailea
Our resort pays tribute to the first king of a unified Hawaiʻi
May Day Is Lei Day
The spirit of aloha comes alive at Grand Wailea
Awaken and Arise with the Perfect Start to the Day
Discover the magic and history of Grand Wailea's e ala e experience, a rejuvenating and inspiring wellness experience that allows you to learn a simple Hawaiian oli (chant) and enter the ocean to release the past and all of life's stresses. Emerging from the ocean renewed, welcome the rising sun with a rousing "E Ala E" chant that creates life energy for the day ahead.
An Open-Air Museum in Paradise
At Grand Wailea, we have assembled a formidable art collection to spur the imagination and shed light on our historical and cultural roots.
Connecting Culture and Community
Kalei's popular weekly cultural tours will give you a feeling of connection; learn more about her island home of Maui and her Hawaiian heritage.

E Komo Mai!
We are honored to call Maui home, and from the moment we opened our doors in 1991, we have been committed to sharing the essence and wonder of Maui.