Pools & Beaches
Go on daring family adventures at our epic 25,700 sq. ft. Wailea Canyon Activity Pool, which offers an unparalleled experience across nine individual pools, intertwining slides, rapids, waterfalls, and more. For a more serene atmosphere, slip into our 4,850 sq. ft. adults-only Hibiscus Pool and discover an aquatic paradise featuring two Jacuzzis. If you're seeking more privacy, you can reserve one of our deluxe poolside cabanas and casabellas, or you can reserve your own serviced beach chair and soak up the Hawaiian sun on legendary Wailea Beach—just steps from our resort.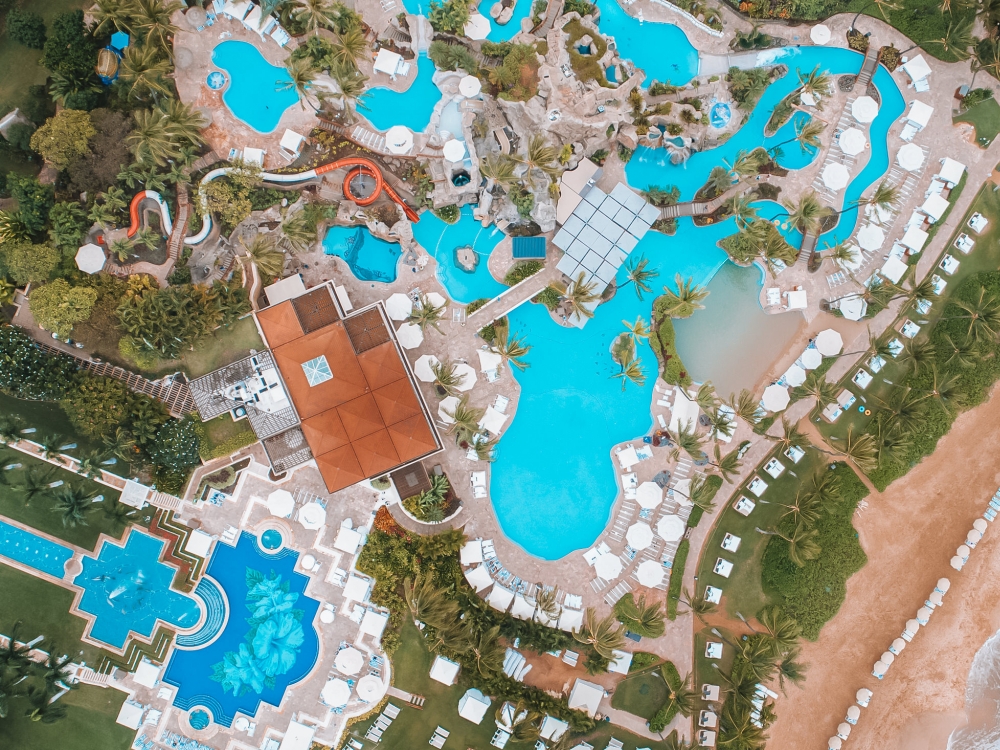 Water Slides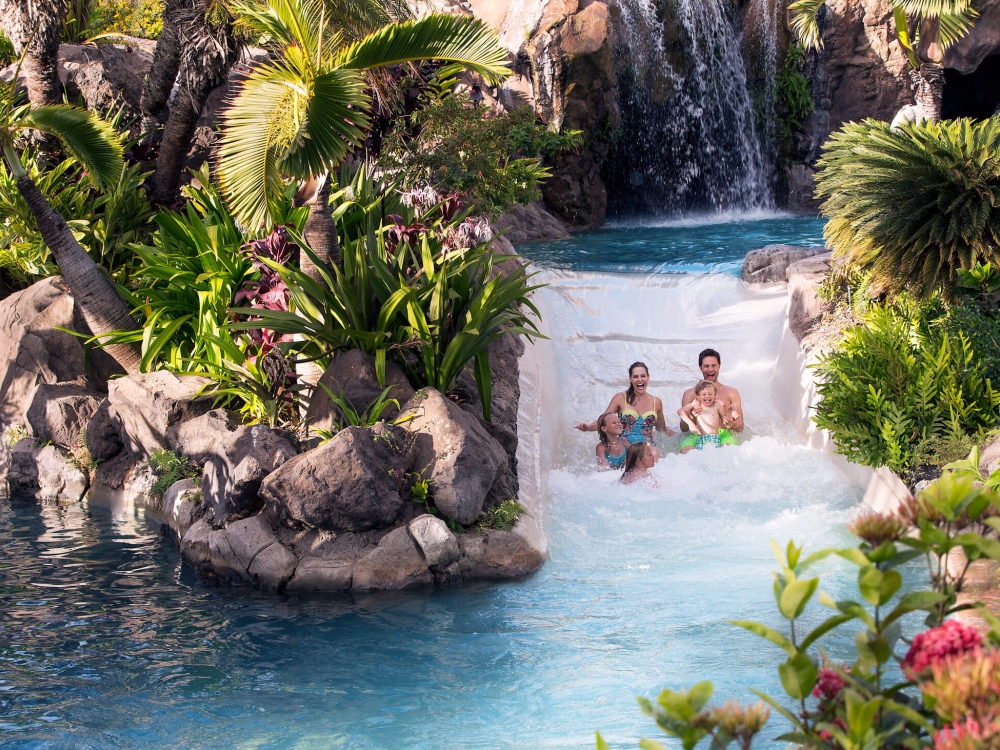 Wailea Canyon Activity Pool
Spend the day in this epic 2,000-foot-long, 25,700 sq. ft., 770,000-gallon pool area that consists of nine individual pools on six different levels, connected by a river that carries swimmers along whitewater rapids and gentle currents.
Wailea Canyon includes four jungle pools, five intertwining slides, a whitewater rapids slide, a Tarzan pool with rope swing, a sand beach, six waterfalls, caves, three Jacuzzis, and a swim-up bar.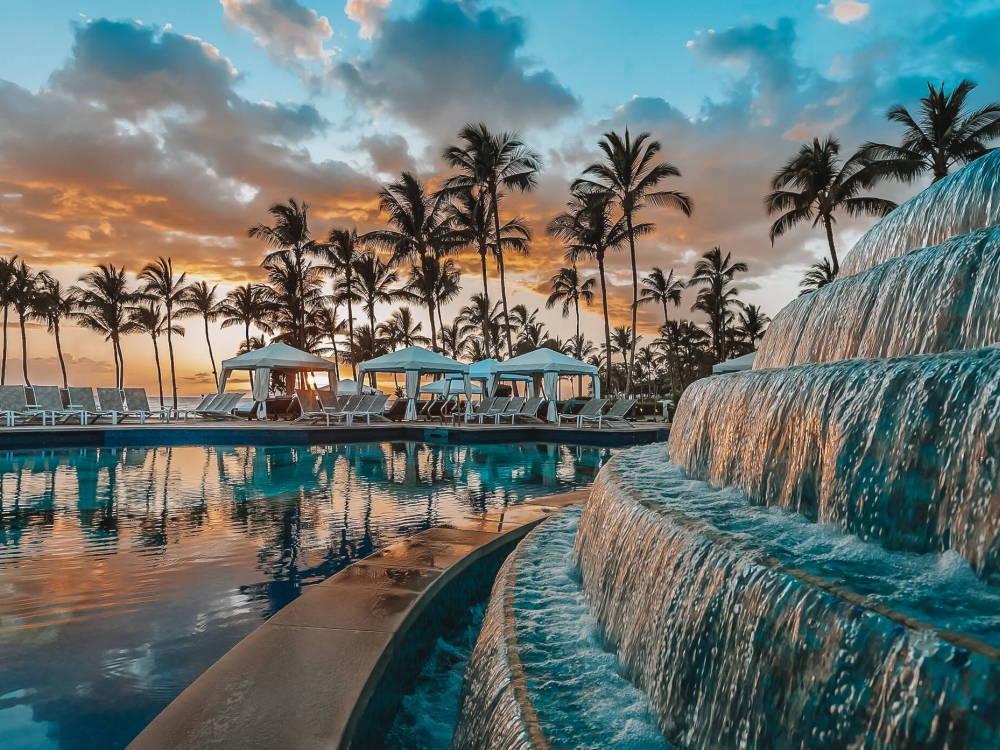 Hibiscus Pool
The 4,850 sq. ft. Hibiscus Pool is named for the giant Hibiscus flower inlaid on the bottom of the pool made from over 630,000 pieces of Mexican glass mosaic tile. The entire pool contains over 2.2 million individual tiles and features two Jacuzzis. This pool is reserved for guests 18 and older.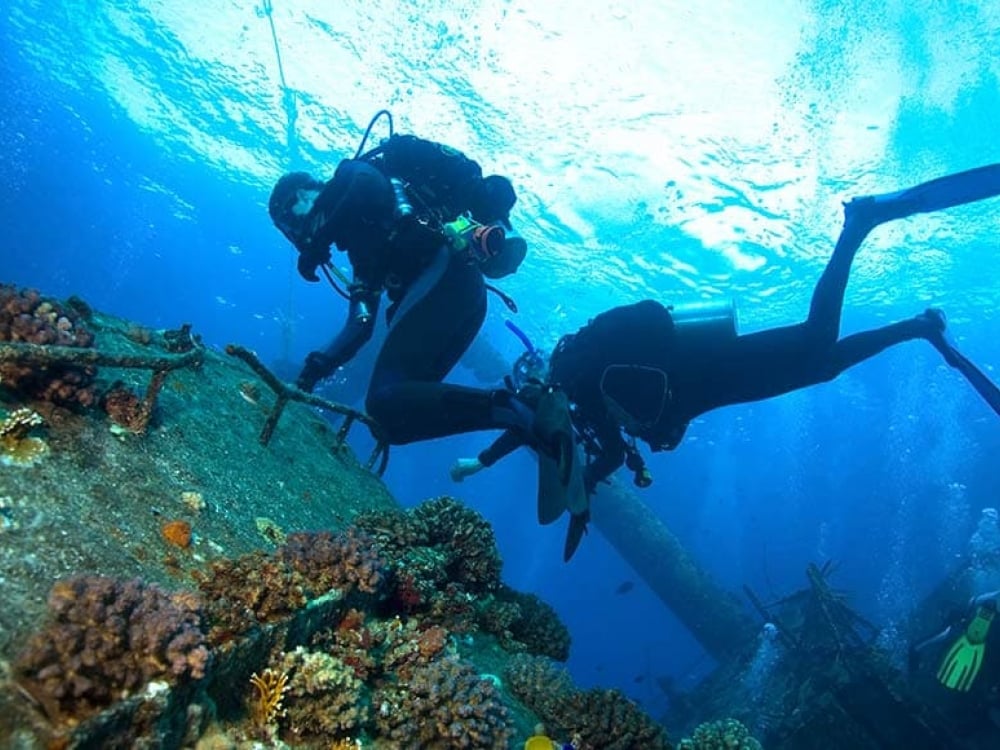 Scuba Lessons
Grand Wailea has the only resort-designated SCUBA training pool in Hawaii. DIVE Wailea, Grand Wailea's third party SCUBA provider, offers complimentary pool lessons to first-time divers, 12 years or older. Their professional instructors can also escort you on one of four ocean dives tailored to novice or certified divers.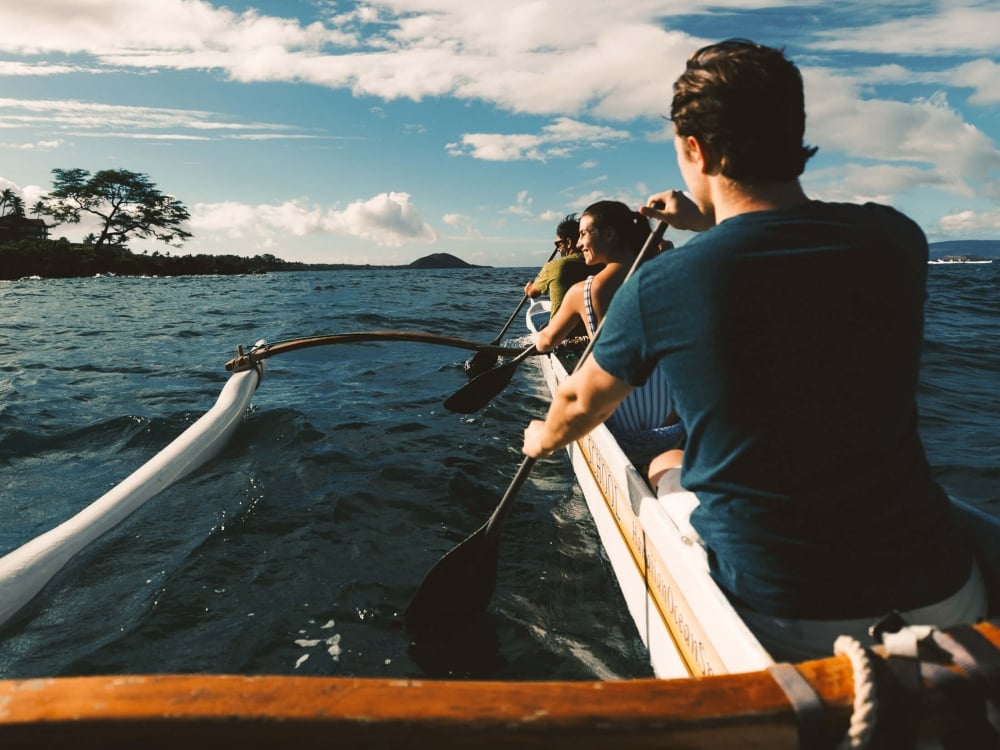 Outrigger
Grand Wailea celebrates one of the most revered Hawaiian traditions with our newly-launched Outrigger program. Join us for an authentic Maui experience aboard a traditional outrigger canoe on a guided paddling journey down the golden coast of Wailea—Hawaiian for the "waters of Lea," the goddess of canoe builders. With each dip of your paddle into these storied waters, take an unforgettable journey to rediscover yourself and the magic, beauty, and wonder of Wailea.
Aqualani
Enjoy the day in the water with our ocean activity partner, Aqualani. Rentals are available by the hour for kayaks, snorkel equipment, paddle boards, boogie boards, and aqua gliders. Packages are also available. Costs Apply.
Frequently Asked Questions
Grand Wailea offers guests the opportunity to cancel direct bookings up to seven (7) days before their intended stay, at no charge. Advanced purchase packages and rates, special promotions, group contracted rates, and rooms purchased via third-party partners may have separate terms and conditions. Please note, festive stays between December 18 – January 4 require a 60-day cancellation policy.
Our standard rooms accommodate up to four guests per room, with all king bedrooms offering a pull-out sofa. Two adults are permitted per room; however, additional guests over 18 years old will be required to pay per adult, per night. Our suites accommodate up to five guests per room, which includes two adults per room, with applicable charges for additional adults per night.
Grand Wailea is proudly a pet-friendly resort that welcomes all family, therapy, and service animals. Guests accompanied by a family pet (under 50 pounds) will be charged a $30/night non-refundable pet fee; however, there is no fee for service or therapy animals. Limit one pet per room.
All pets must be on a leash and accompanied by a registered guest at all times when outside the guest room. According to the Hawaii State Health Code, only registered service animals are allowed in restaurants.
Please note that guests must comply with all state, local regulations including state Animal Quarantine laws prior to arrival.
Grand Wailea looks forward to welcoming you back.
For the most current updates, please visit our regularly updated Travel Arrival page.
Grand Wailea Maui is located at 3850 Wailea Alanui Dr, Wailea, HI 96753, in South Maui, right off of the famed Wailea Beach.
Guests may check-in anytime after 4 pm.
Guests have until 12 pm to check-out.
At the current time, we do not offer pool passes or day passes for non-resort guests.
All guests that are owed a refund will be refunded within 30 days of their cancellation.
Grand Wailea does not offer an all-inclusive package. All amenities on property, including dining, are separate from room rates; however, a daily Resort Fee is added to each room per night and used to cover a variety of guest-only amenities and activities at the resort.
Many of the Hawaii scenes from Just Go With It starring Adam Sandler and Jennifer Anniston were filmed at Grand Wailea.
Under the Hawaii Smoke-Free Law (Act 295), smoking is prohibited in enclosed and partially enclosed areas, and within 20 feet of doorways, which includes guest room lanais. Throughout the resort gardens, there are designated smoking areas in thatched huts that include ash urns. If you have questions regarding this policy, please call the Front Desk at ext. 50.
Grand Wailea takes guest safety and privacy seriously, and in compliance with Hilton Worldwide and Wailea Resort Association rules, operation of personal Unmanned Aircraft Systems/Drones is prohibited on-premise. Grand Wailea is a UAS/Drone No Fly Zone for all personal and recreational purposes, and approved vendors must work with our marketing team to ensure all permits and licenses are obtained before use.
Hawaii State Liquor Law requires a person to be at least 21 years of age to purchase or consume alcohol. All patrons will be asked to present identification before being served alcohol at any of the resort's venues. Outside alcoholic beverages are prohibited on the pool deck and activity areas. Grand Wailea reserves the right to refuse alcohol service to any patron who is thought to be visibly impaired or unable to present proper identification.
Please DM your influencer requests to us @GrandWailea on Instagram. Due to the high amount of influencer requests we receive, we may not be able to respond to your influencer inquiry.
Yes, safes are available in every guest room.
The main airport on Maui is Kahului Airport (OGG).
We are pleased to announce Grand Wailea is currently undergoing a multi-faceted revitalization, executed as a phased approach meant to underscore the property's position as the gold standard in luxury hospitality. The hotel's rich heritage and unique character will be preserved and updated to reveal a final product in 2022 that offers a fresh, modern interpretation of Hawaii and the relaxed elegance for which Grand Wailea is known and celebrated.  Additional questions can be answered here.
We are currently busy enhancing the overall property, including many of the resort's  -existing spaces. This revitalization is being executed in a phased approach to avoid any disruption to the guest experience.
The multi-faceted resort refresh began in 2020 with the Napua lounge and will continue through to 2023 with improvements to other central areas including Spa Grande. In the interim, please be sure to check out our exclusive boutique spa concept, Mōhalu by Spa Grande. Additional updates are available on our Enhancement page. 
In keeping with our commitment to optimal guest service and experience, the revitalization will be executed in a phased approach to avoid any disruption. While some areas are undergoing transformation, the hotel will remain fully operational and provide alternative venues to supplement any temporary closures. We are fully committed to maintaining the seamless guest experience Grand Wailea is known and celebrated for.
We are excited to announce our new spa concept, Mōhalu by Spa Grande, a new intimate wellness experience and personal escape inspired by the heritage and tradition of Mōhalu. Launched as a direct result of guest demand for a full range of treatments in a more private individualized setting, this new chapter of the Spa Grande story will feature 19 private treatment suites with partial garden or ocean views and offer a range of packages and services while Spa Grande undergoes further enhancements.
Grand Wailea is working behind the scenes to ensure the revamp does not disrupt the guest experience. As spaces close for a short period of renovation, the hotel will provide alternative venues to supplement any temporary closures.
All F&B service is required to follow local, state and CDC guidelines. Grand Wailea will feature a menu of family-style lū'au cuisine served directly to your table.
 
Guest are required to follow all CDC, local and state guidelines. Grand Wailea has the right to refuse service if guests do not adhere to all CDC, local and state guidelines. 
In general, the wettest periods on Maui occur during the winter months of November to March, although Wailea benefits from being on the leeward side of Maui, which means the weather at Grand Wailea is generally drier (and warmer) than the rest of the island, even during the winter.
January is generally Maui's coldest month, with an average low temperature of 64 degrees F (18 degrees C). Keep in mind, though, that the average high temperature during January is 81 degrees F (27 degrees C). Remember, too, that the microclimate in Wailea results in more temperate weather patterns, even in the winter
The wet season in Maui lasts typically from November to March, although Wailea's location on Maui's leeward side gives it a microclimate that is drier than the rest of the island, even during the wetter winter months.
Maui experiences favorable weather all year round, with the average high in January of 81 degrees F (27 degrees C) not differing much from the average high in August of 90 degrees F (32 degrees C). In truth, every month is a wonderful time to visit, although if you come from November to May, you'll have the added bonus of being able to experience the majestic wonder of whale-watching season, when you can see North Pacific humpback whales up close.
Roughly speaking, there are seven different microclimate zones on Maui, ranging from relatively dry and warm along the Wailea coastline, to cooler and misty in the upcountry rainforest, to downright unpredictable on the summit of Haleakalā.
If you are exhibiting a fever or any of the symptoms consistent with COVID-19, the spa will decline to go forward with your scheduled appointment.
We kindly ask guests to arrive 30 minutes prior to their scheduled start time. Mōhalu by Spa Grande is located on the 4th floor adjacent to Loulu.
Wailea Beach
Just steps away from Grand Wailea is Wailea Beach, rated one of the best beaches on Maui and one of the top beaches in the world.  Spend your days relaxing in the Hawaii sun with beautiful views of Pacific Ocean. And in the evenings, enjoy breathtaking Maui sunsets.